About
Rudolphs
We are committed to being a leader for the industry in Northland and in the New Zealand market.
We are one of the larger abrasive blasting and coating companies operating in New Zealand, working primarily in marine vessel maintenance at two primary Port Whangarei sites, and structural engineering from our Ruakaka site.
Our commitment to providing exceptional quality work and outstanding customer service has been the key to our success over the last four decades, as well as being integral to our future success.
Vision
To be Northland's leading provider of abrasive blasting and coating services, competing locally, nationally and internationally.
Mission
To 'wow' our customers with excellent customer service, by delivering high quality abrasive blasting and coating services in a safe and effi cient manner. Quality and safety does not cost - it pays!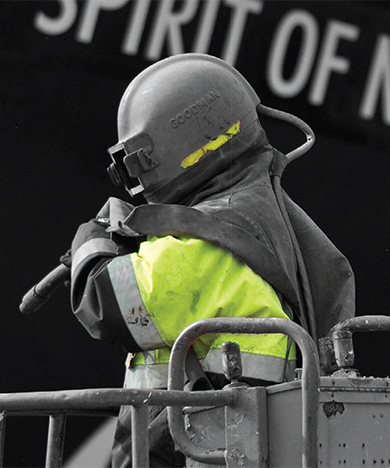 Commitment
To our customers: Ensure customer satisfaction by getting it right first time, every time.
To our employees: Value our employees for their contribution to the success of the company, and provide them with professional development to ensure we are equipped to deliver an exceptional service.
To our shareholders: Operate in a manner that keeps us financially viable, and which provides a positive return on investment for shareholders.
Health & Safety
Our priority above all else is the safety and wellbeing of all those who come in contact with Rudolphs.
We are committed to staff achieving Level 3 and/or Level 4 Health and Safety Workplace and/or HSE Workplace Co-ordination National Certificates via SafeTrades Northtec.
We gained Tertiary Level Accreditation for ACC Workplace Safety Management Practices in 2009, 2012 and October 2014.
In 2012 we were especially proud to receive the ACC Workplace Safety Award at the Westpac Northland Excellence in Business awards, as well as the Golden Bay Cement Excellence in Business award for a Medium Business.
Our People
Our team of 31 is our strongest asset, and the driving force behind our business. It is through their hard work and dedication that we are able to provide our high standard of output and service.
We are absolutely committed to providing our employees with every opportunity for training and upskilling. We are always proud of their achievements, from success in Exito Blaster Coater level 2 and 3, OSH
Workplace, OSH Co-ordination, and First Line Management training (all NZQA unit standards), to various other external training opportunities including Pro-Activate Fusion at Work, one on one coaching and NACE 1, 2 and 3 Coating Inspectors. We're proud to say our dedication to upskilling our employees is creating a benchmark within our industry.